OUR FIRST SPY:CO PARTY IN THE US!
Suddenly it showed up in our mailbox - our first US order!

Of course, we are a little bit proud as we haven't done any marketing on the US market (yet!). This customer found us through friends who had a Spy:Co party a couple of months ago. Our poor Octagon had to wake up at 2 am!

Because of that, I have to show you a short clip of when Octagon is a bit more active...
Läs hela inlägget »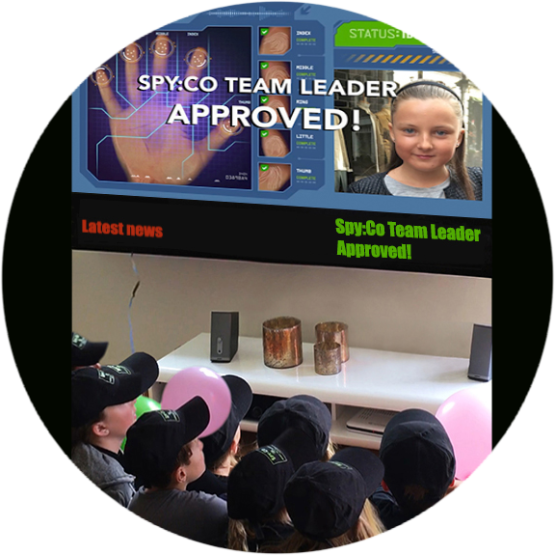 Yes, it's possible! Now the birthday girl/boy can star in their own Spy Movie clip!

In the film, the staring girl/boy is presented as the new Spy:Co team leader - approved by Octagon, head of all agents!

The clip should be shown for all the kids at the Spy:Co Spy Party, just before the mission starts. This is not all, the film could also easily be downloaded to all devices and we know that having it on the mobile phone and showing it to friends and family after the party is a huge hit! The film can be viewed over and over again and be a special memory of an unforgettable spy party...

The only thing you, as a parent/organiser, have to do is to send in a nice photo of the birthday girl/boy and then we do the rest!

Order your personalised spy movie clip here »»
Läs hela inlägget »
Spy Popcorn - Spy:Co's Best Birthday Party Treat Ever!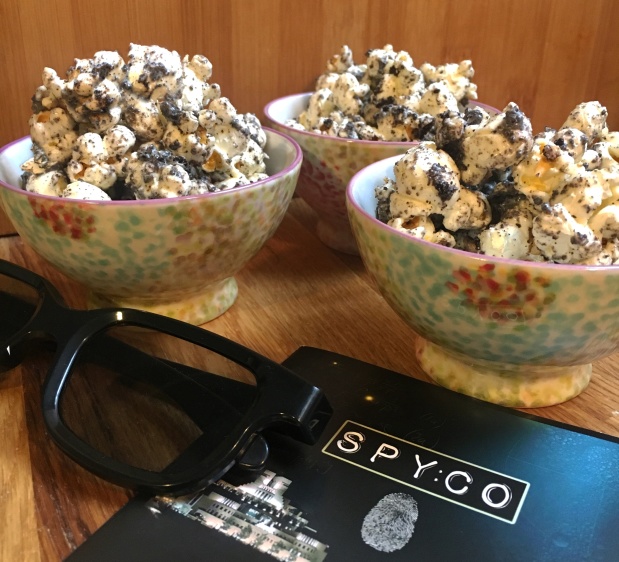 This recipe has been a favourite since the first time I made it and it is an absolute must, once, every year! It is very easy to make and it is the best party treat ever!

When the children have their birthday here in the Netherlands, they bring small treats/sweats to the whole class. This is known as a¨traktatie¨. When the children were really small, we often made hedgehogs, using melon halves that we put wooden skewers in with fresh fruit and marshmallows. Over the years, I think a small shift has taken place. I can summarise it as: bigger kids = unhealthier traktatie! Once a year, I give in! I knew our children liked white chocolate and they liked Oreo cookies so I came up with the idea of trying to combine these two in a fun (and easy!) way.

Usually, we do not eat a lot of sweets as our children really like good food more than sweets and desserts. However, this is the exception!
This has become the absolute favourite of both our own kids and all the children in the class for the last five years. How to make our own Popcorn with white chocolate and Oreo cookies.

You need the following:

• Salted popcorns - Calculate about two cups of popped popcorn per child.
• White Chocolate
• Oreo cookies
•

Place the white chocolate in a microwave-safe bowl. Use as much or as little white chocolate as you think is ok... Break the chocolate into pieces and put it in the micro for 50 seconds at a time until the chocolate is melted.

Put the Oreo Cakes in a zipper bag and crush them into small and larger pieces with a rolling pin. I use about two Oreo cookies for each child.

Then mix the popcorn and the Oreos in a large bowl. Once everything is well mixed, you pour in the warm white chocolate and gently stir the popcorn, Oreos and the white chocolate around so it gets evenly distributed. The kids will love it!!!

I recommend always making the popcorn as close to the actual serving as possible as they lose a bit of their crunch if you do not eat them at once.



Läs hela inlägget »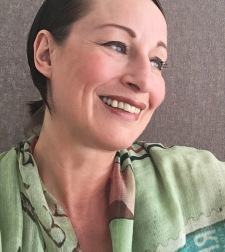 I'm Hellena! Swedish fashion designer and founder of Spy:Co. Living with husband Per and two children in the old city centre of Amsterdam since over 20 years. I'm also head of all Spy:Co spies...